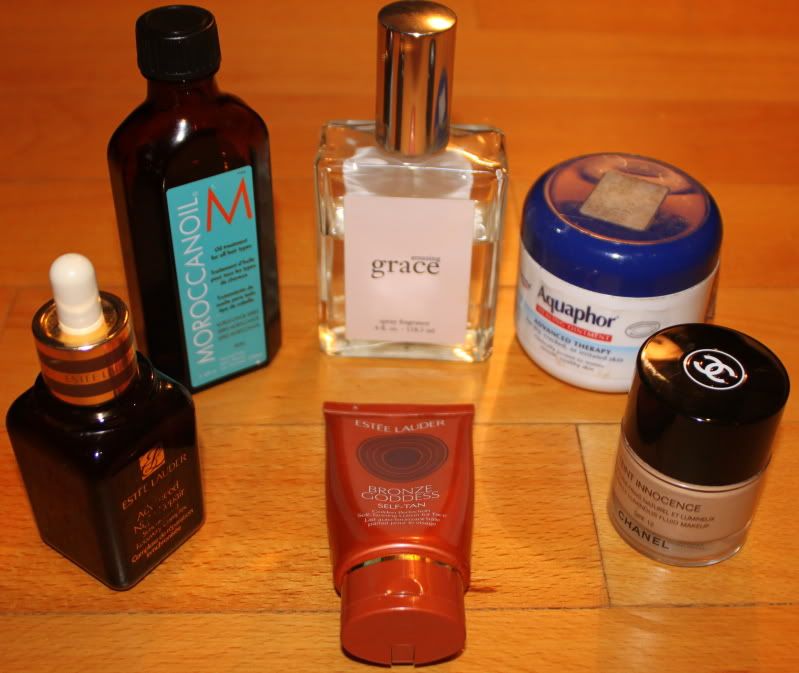 from left to right
Estee Lauder Night Repair Serum: not sure what it is about this product, but ever since i started using it, my skin has gotten better. Any old marks have faded and if I do get a blemish, it heels pretty quickly. Expensive, but for me, worth every penny
Moroccan Hair Oil: Just a little of this stuff, combed through damp hair, makes my hair so much smoother and less frizzy. I've used MANY products, but this is my favorite.
Philosophy Amazing Grace Perfume: My favorite everyday perfume. It's extremely light and clean smelling and perfect for the day. I get sick of many perfumes, but never with this one. Also obsessed with the Amazing Grace body lotion.
Aquaphor: Cannot live without this stuff, plain & simple. I use it on everything!!
Chanel Teint Innocence Foundation: nice & light (what I like) but build-able, if necessary.
Estee Lauder Bronze Goddess Facial Self Tanner: I've used self tanner on my face since HS. Mixed in with my facial moisturizer, it doesn't necessarily make me look tan (it's a rare occasion when I do), but just perks up my skin enough, especially in the winter when I'm looking particularly ghostly.
I also did a "favorite makeup" post awhile ago, which you can check out
here.