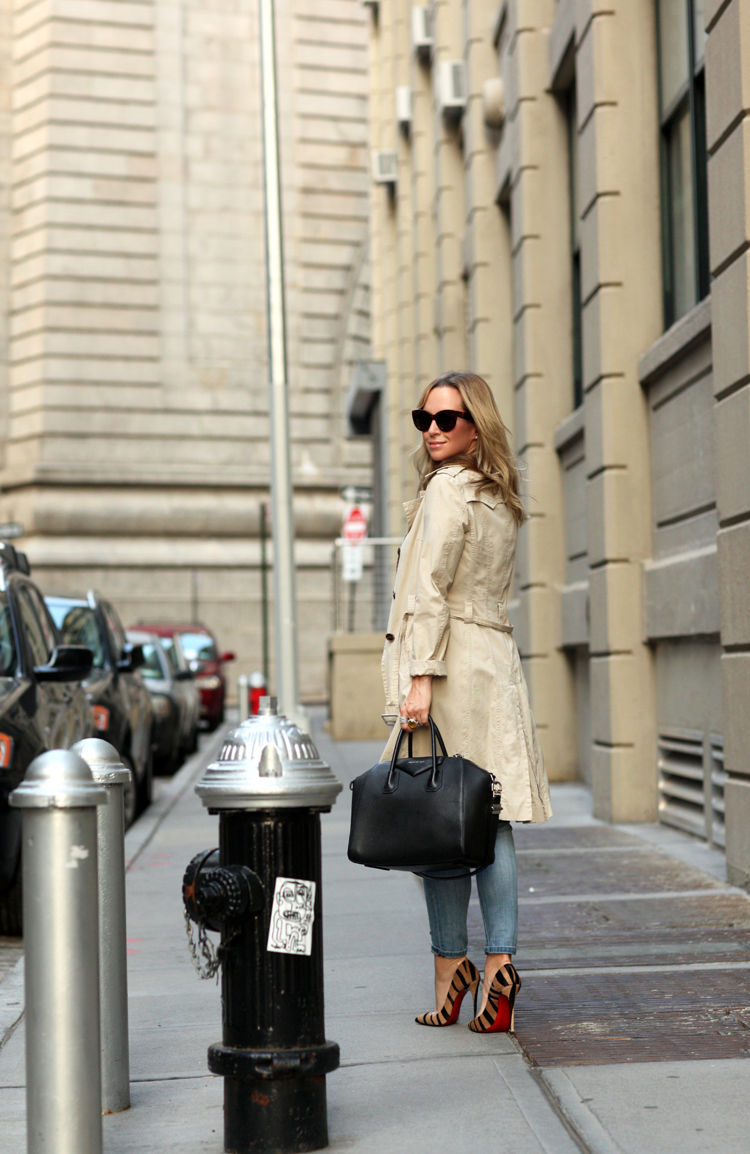 David Yurman pieces (borrowed) all listed below | Trench: Zara (similar) | Jeans: Current/Elliott 'Stiletto' | Shoes: Christian Louboutin | Bag: Givenchy | Tee: Rag & Bone (long sleeved version here) |I'm so thrilled to be partnering up with David Yurman, to share some of my favorite pieces in conjunction with some of my favorite summer hangout spots. While many New Yorkers flee the city on the weekends, Keith and I stay back, more often than not, and enjoy what our city has to offer.
For our first set of photos (taken on a day that was a bit chillier than normal), we chose one of my favorite neighborhoods in this entire world, Dumbo. Dumbo is filled with so much beauty from the most breathtaking NYC views, to the old cobblestones to all the murals and art that brighten up the streets. We end up here almost every weekend, walking around, exploring all the little alleyways and nooks and crannies this neighborhood has to offer.
Dumbo is worth coming to for the views alone, but aside from that, we have some favorite spots we often hit up.
---
DUMBO FAVORITES
Atrium Dumbo: my good friend, Keiko, was the first person to tell me about this place and since then, it's become one of our favorites in the neighborhood. The most stunning interior is matched with wonderful service and top notch food and cocktails.
Gran Electria: with the most charming back patio area, this is one of my favorite places to come on a summer afternoon (or evening) for some margaritas, tacos and guacamole.
Grimaldi's: I can't speak of places in Dumbo without mentioning world famous, Grimaldi's Pizza. Yes, it's definitely that good. Make sure you come right when it opens or you'll have to wait on a fairly long line (outside). The positive: if you are waiting outside, at least it will be with the best views ever.


Almondine Bakery: I dream of this place. The best almond croissants in Brooklyn (my opinion), but to be honest, everything is good.
Modern Anthology: Even though it's labeled as a mens store, I love coming in here. I've gotten great gifts, art and little accessories for the home.
---
David Yurman pieces I'm wearing throughout:
Rings: Signature oval ring with lemon citrine and diamonds, Willow five-row ring with diamonds.
Bracelets: Cable Classics Bracelet with Green Onyx and Diamonds, Cable Classics Bracelet with Lemon Citrine and Diamonds, Color Classics Bracelet in variety of colors.
See the rest of my favorite pieces HERE.
The biggest thanks to my amazing husband, Keith, for working on this project with me.
This post brought to you by David  Yurman Style of Summer, all opinions are my own.