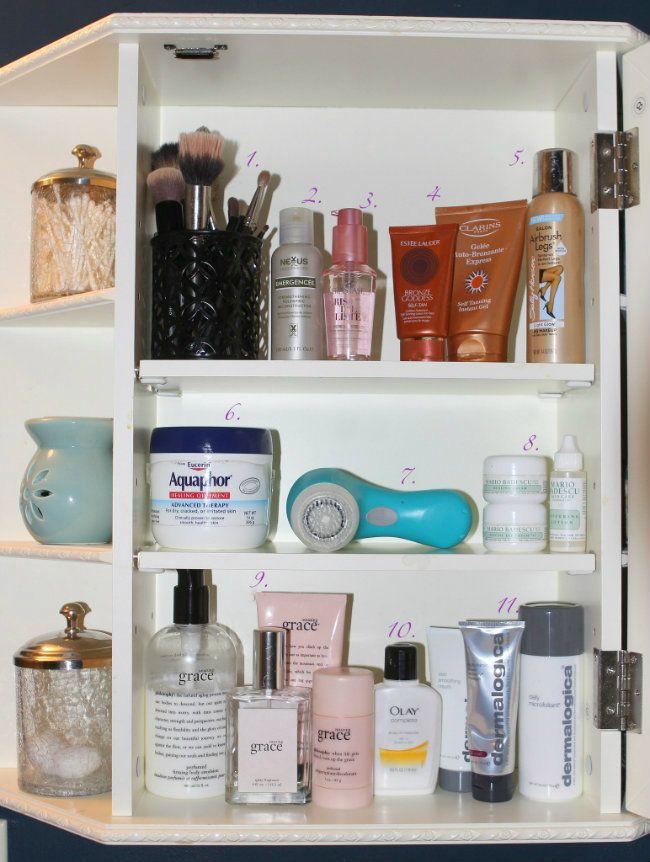 A few months ago I did
a beauty post
, in which I shared some of my very favorite products in hair, nails and makeup. Today I wanted to give you guys a peak inside my bathroom cabinet (which is NOT normally this neat and organized-cleaned it just for you guys). Here I'm focusing a bit more on my favorites in skincare and body. A few products might be repeats from the last post, but that just shows how much I love them!
Continue reading after the jump….
1. I'm a big believer in investing in quality makeup brushes. It makes such a difference in makeup application and something that will last you for years. MAC brushes are my personal favorite and I use a Sephora brand brush to apply my
Bare Escentuals. 
 Also, I like to keep mine in a pencil holder.
2.
Nexxus Emergencee
: I spoke about it in
my last beauty post
and linked on how to properly use it. A MUST for me.
3.
Kerastase Lumiere Liquide Product
: love how this stuff tames my hair & makes it feel silky without weighing it down. Big fan of Kerastase in general.
4.
Estee Lauder Bronze Goddess
(face) &
Clarins Self Tanning Gel
(body): cannot live without self tanning products and these happen to be my favorite for face & body.
tip: when applying self tanner, I like to mix mine with a bit of moisturizer to make it less foul-proof (I like to use the ratio of 70% tanner/30% moisturizer). After you apply, take extra moisturizer and go over your ankles, knees, feet, elbows, wrists and neck to prevent self tanner from settling in those areas. 
5.
Sally Hansen Airbrush legs
: if this stuff ever got discontinued, I'd be a very sad girl. Amazing stuff when you're exposing bare legs and they need a little pick me up.
6.
Aquaphor:
I have this stuff lying all over my house and in every one of my handbags. I use it on everything from lips to hands to feet.
7.
Clarisonic MIA
: using this little tool 3x a week has made my skin look so much brighter and healthier. The MIA also makes any products that I use after (whether it's a retinol treatment or a moisturizer) just melt into my skin. Another positive: I had a little bump on the back of my thigh, and using the Clarisonic on it, followed by a little
glycolic
treatment has significantly faded it.
8.
Mario Badescu Favorites
: My skin can be rather temperamental and I absolutely adore MB products.
Cannot live without the
buffering lotion,
which shrinks almost any blemish overnight.
Healing Cream:
don't know what it is about this stuff, but it majorly reduces redness in problematic areas. Another huge plus, if you ever have the urge to pick or pop a pimple, this prevents it from getting overly red and irritated.  Lastly, their
Special Eye Cream
is the best. Super rich so I only apply at night, but I love the "plump" feeling it gives my eye area.
9.
Philosophy Amazing Grace
: I'd like to say if I had a signature scent, it would be this. I use everything from the body lotion to the perfume and anything in between. Very clean smelling and never over powering.
10.
Olay Complete Sensitive Skin:
I've been using this stuff since high school. A great basic moisturizer with SPF 15.
11.
Dermalogica Favorites:
My other favorite brand which always leaves my skin nice and happy.
Their Skin Smoothing Cream
is my favorite moisturizer when I'm not using one with SPF. For someone with sensitive skin that can be rather dry, this stuff has never broken me out and just provides the best canvas to apply any sort of makeup. Love! As far as exfoliators go, their
Microfoliant
is the absolute best. Removes any dead skin cells while never being harsh, like some other exfoliators.
Lastly, their
Multivitamin Power Recovery Masque
is my go to when my skin needs a serious pick-me-up or looks/feels dehydrated (like after a night of drinking).